I am honored to present a guest post by Sara Goodwin Brown, Great Harvest Burlington, VT owner and guest blogger
I have to admit, I don't understand why we make a big deal out of Saint Patrick's Day. Why not celebrate another Saint or another heritage?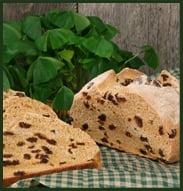 Yet I'll wear green on Saturday, and pinch my husband when he doesn't. I'll serve my kids Irish Soda Bread and potatoes. I will, however, refrain from the green food-coloring that my mom used to break out on St. Patty's day, because to this day the memory of green rice makes me feel queasy.
I think that our collective celebration of Saint Patrick's day can be seen as a celebration of ancestry, as individual as that is for each of us. Our family will celebrate our wee bit of Irish blood and revisit the family tree. We will talk a little about history and feel gratitude for our ancestors who had the courage to move to a new continent long ago. We will imagine life on the Emerald Isle as we wait for our own hills to green.