Once a year in the Great Harvest family, we all get together for our annual convention and share ideas, make new friendships, and renew old ones. I had the pleasure this week of attending my first convention in San Diego as Great Harvest's new Corporate Chef. It was amazing to meet so many of our owners and find out what they need from this exciting new position. I also taught three sessions to about 100 of our bakery owners focusing on ways customers can use our products in recipes at home. They thoroughly enjoyed watching the demonstrations and enjoyed eating them even more!
These recipes focus on using not only our delicious breads but also our fresh ground mixes. They will now be available at your local Great Harvest so you can try them at home. We will be highlighting some of these recipes on our blog over the next few months.
During these frosty winter months, dishes like this play on polenta made with our Nine Grain Cereal Mix are the perfect thing to warm up your dinner table. This recipe is an interesting take on classic polenta using Great Harvest's 9-Grain Cereal Mix. Instead of just corn, you get the nutritional benefits of red wheat berries, rye, flax, barley, and more. It makes for an incredibly healthy, comforting side dish that is full of complex flavors and textures. The notes of garlic and fresh thyme are truly intoxicating. It is wonderful served alongside roasted meats, grilled steaks, pork chops, or a mixture of sautéed mushrooms.
9-Grain "Polenta"
Serves 4 as a side dish
Total time: 50 minutes Active Time: 10 minutes
Ingredients
2 Tbs. unsalted butter, divided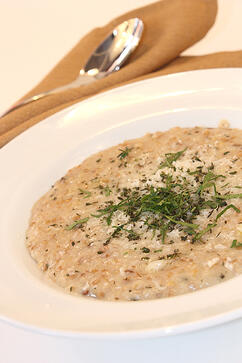 2 whole garlic cloves
4 cups chicken or vegetable stock
1 bay leaf
1 cup Great Harvest 9 Grain Hot Cereal Mix
2 tsp. Chopped fresh thyme
1/3 cup grated parmesan cheese or Pecorino Romano
Additional parmesan cheese for top
Kosher salt and freshly ground pepper to taste
Additional water as necessary
Method
In medium saucepan, melt 1 Tbs. of the butter. Add garlic cloves and allow to bubble and brown slightly. Add stock and bay leave. Crack a bit of black pepper into the pot. Bring to a boil, reduce heat to low and add cereal mix while whisking constantly.
Return to a simmer, cover pot and cook gently for about 40-50 minutes, stirring frequently with a wooden spoon. The mixture should have absorbed most of the liquid but still be slightly loose.
Remove the garlic cloves and bay leaf. Stir in the thyme, cheese, and remaining 1 Tbs. butter. Taste for seasoning and adjust if necessary. At this point the polenta holds extremely well over a low flame if necessary for up to 30 minutes. Occasional stirring and a touch of additional water to adjust consistency might be necessary.
Find more recipes here: