These bright and simple appetizer recipes are great additions to any holiday party. The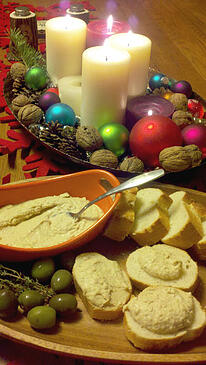 tapenade and hummus can easily be made up to three days ahead of time in your food processor and the gorgonzola and pear baguette takes just minutes to prepare.
Some Great Harvest bread stores, in addition to our outstanding signature breads, also carry artisan hard-crusted bread varieties ranging from Asiago Sourdough to Baguettes to Multi Grain Sourdough. Swing in and grab a baguette to complement the following recipes. If your Great Harvest doesn't make hard-crusted breads, don't worry! Tuscan Herb, Mediterranean Olive or any of your other favorite savory breads would also compliment these recipes.
Citrus Tapenade
1 cup Kalamata olives, pitted
2 1/2 tablespoons drained capers, rinsed
2 tablespoons extra-virgin olive oil
2 tablespoons fresh orange juice
1 1/2 tablespoons fresh lemon juice
1 tablespoon fresh lime juice
1 teaspoon orange zest
1 teaspoon lemon zest
1/2 teaspoon lime zest
Blend olives, capers, oil, all citrus juices, and citrus zests in processor to coarse puree. Season with salt and pepper. Spoon onto a piece of thinly sliced baguette and serve.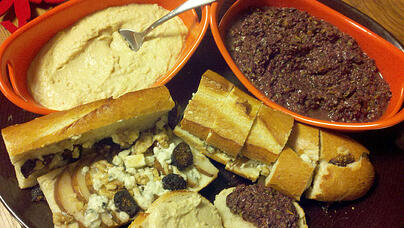 Hummus
1 15-ounce can organic garbanzo beans (chickpeas), drained
1 garlic clove, peeled and finely chopped
3 tablespoons (plus more, if needed) fresh lemon juice
1 teaspoon lemon zest
3 tablespoons tahini
2 tablespoons extra-virgin olive oil
2 teaspoons minced seeded jalapeño chile
Blend ingredients in processor until smooth. Continue adding olive oil and lemon juice until desired consistency is reached. Spread onto a piece of thinly sliced baguette and serve.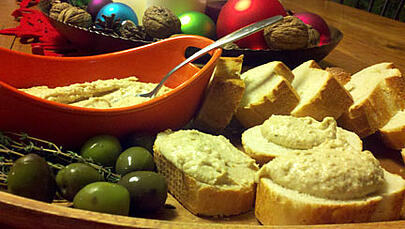 Baguette with Gorgonzola and Pears
1 12-inch baguette
1 ripe pears, sliced thinly
1/3 cup walnuts
12 ounces gorgonzola
1/3 cup chopped figs

Cut baguette in half lengthwise and then in half widthwise (you will now have 4 top and 4 bottom slices). Distribute pear slices evenly over the 4 bottom slices of bread. Crumble walnut pieces evenly over the pears. Crumble gorgonzola evenly over the pear-walnut combination. Place top half of bread on each of the bottom halves. Wrap in foil and place in 350°F oven for 3-5 minutes or until cheese melts.
I'd love to hear from you if you try these recipes. Did they work for you & did your guests enjoy them?
Bon appetite and happy holidays!