Eat Right with Color
This month is recognized as Nutrition Month! It was launched in 1973 by the American Dietetic Association, the world's largest organization of Food and Nutrition professionals. March was set aside as a time of the year to help Americans establish a healthy relationship with food and promote physical activity! Thirty-eight years later we still allocate this time to fine tune these very important lifestyle changes. Fortunately, the whole grainy goodness of Great Harvest gets to join in on this fun time and support Nutrition Month as our freshly milled 100% whole grain wheat flour supports this healthy lifestyle!
The premise of this year's Nutrition Month is 'Eat Right with Color'. What this theme is trying to convey to us is that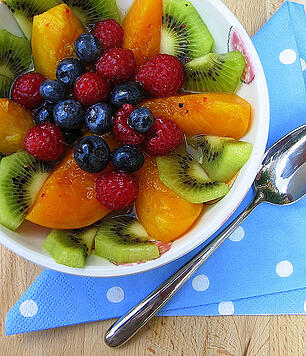 consuming a rainbow of colors on your plate can actually lead you to your pot of gold in terms of health benefits! This is because the varying colors of different foods are visual markers of different phytochemicals and nutrients. So what are phytochemicals? They are non-nutritive biologically active compounds found naturally in plants such as fruits, veggies, grains, legumes, herbs, teas, and spices. In other words, they provide beneficial effects such as inhibiting tumor formation and proliferation, scavenging free radicals, maintaining vision and brain function, improving cholesterol, protecting you from heart disease, and other positive things while providing no calories! Look for these colors or phytochemicals and the positive effects they can produce:
Red

signifies anthocyanins and lycopene. These plant foods promote heart health, vision, your immune system, and may reduce cancer.

Blue

and purple signifies anthocyanins. These plant foods have anti-aging effects, support your memory function, keep your urinary tract healthy, and reduce risk of cancer.

Orange

and yellow signifies carotenoids. These plant foods promote heart health, vision, your immune system, and reduces risk of cancer.
White or pale yellow signifies anthoxanthins. These plant foods promote heart health and reduce risk of cancer.

Green

signifies chlorophyll. These plant foods promote vision and reduce risk of cancer.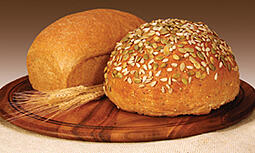 Although our 100% whole grain wheat is not necessarily vivid in color, it still has its own phytochemicals to offer. Whole grains, flaxseed, and nuts contain lignans which may contribute to heart health and immune function, and phytosterols which can lower LDL (bad) cholesterol. Whole grains also offer phytic acid which aids in controlling blood sugars, blocking free radicals, and acts as an antioxidant. Digestive health is also promoted through the fiber content of wheat as well as its prebiotics which improve GI health by promoting healthy gut flora and may aid in calcium absorption.
This month—and beyond!—make sure to plan your meals and snacks with a wide array of colors and incorporate whole grains into your meals and snacks by shooting for at the very least 3-4 servings so that you can reap the benefits of these super foods! Happy Nutrition Month!