I was recently reading the January issue of Food and Wine. Interestingly, one of the trends noted was breakfast sandwiches. I love breakfast sandwiches. There's nothing better than local, farm fresh eggs and some hearty Great Harvest toast. And you know what the experts say about breakfast in general…it's the most important part of your day!
Many of our bakeries launched breakfast sandwiches last year. The thing which sets Great Harvest breakfast sandwiches apart from others is, you guessed it, the bread. If your local Great Harvest is not making breakfast sandwiches, here are some great tasting recipes for you to make at home.
Open-faced Egg Breakfast Sandwich
Ingredients
1 slice of Great Harvest Nine Grain bread (toasted and buttered if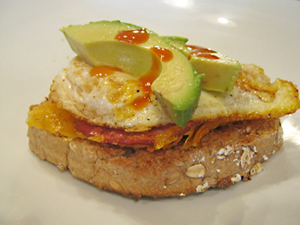 you choose)
1 egg
1 slice of medium or sharp cheddar cheese
1 slice of Canadian Bacon
3 avocado slices
Chohula hot sauce (optional)
Salt & Pepper to taste
Pan spray
Directions
First, toast and butter your slice of bread. After heating up your skillet to medium heat, spray with non-stick pan spray. Next,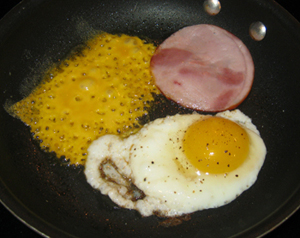 crack your egg in your pan and salt and pepper to taste. Then put a slice of cheese in the pan to melt. Next to your cheese, place your Canadian bacon in the pan to heat. It takes approximately 3 minutes to melt your cheese so that it is soft but with crispy edges. Using a spatula, carefully remove your cheese and place on top of your piece of toast. Next, remove your Canadian bacon and place on top of the cheese. I like my egg soft, but not too runny so I flip my egg and let it cook for 1 more minute. (This would be a total of 4 minutes cooking time for the egg). Once your egg is done to your liking, remove from pan and place on top of your Canadian bacon. Top with avocado slices. Sprinkle on a few drops of hot sauce if you prefer.
Open-faced Peanut Butter & Banana Breakfast Sandwich
Ingredients
1 slice of Great Harvest Honey Whole Wheat or High 5 Fiber (both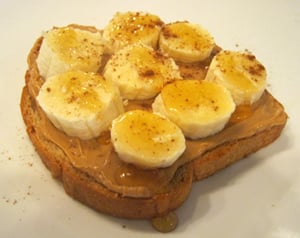 are 100% whole grain)
2 Tablespoons of your favorite peanut butter
2 Tablespoons of your favorite honey (many bakeries carry honey from Honeyville-yum!)
½ banana, sliced
1 tsp cinnamon
Directions
Toast your slice of bread. Spread on the peanut butter. Drizzle on your honey. Affix the banana slices and then sprinkle on the cinnamon. It's a snap!
How do you like to eat your Great Harvest bread for breakfast?