We started a major renovation of our headquarters this week and wow, does that feel good! This is the beginning of the end of a 7 or 8 year process.
Our building is about 110 years old and we have been in it for about 30 years. Much of what we have hasn't been touched in most of that time. We decided a while ago to update things and enter the 21st century, but having an old building in a small town made for years of design delays. We updated some windows last year and now, finally, the work has begun again.
It is always interesting how these things start with the guts of the building. Since it is old, it wasn't built to modern standards so we had to start with a fire sprinkler system. Big hole in the ground.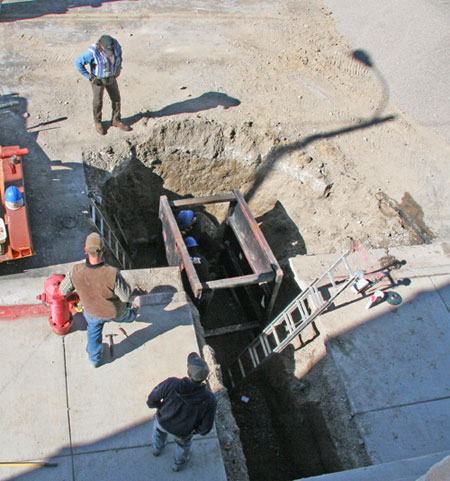 Big hole in the foundation of the building. New pipes everywhere. I am always amazed by how much work 10 people staring at one person standing in a hole can get done in a day but all of that happened today.
At the end, which will be late spring or early summer 2011, we will have redone all of our doors and windows for good looks and energy efficiency (always important in Montana winters), all of our work areas for comfort and efficiency, and we will add some things we have sorely needed for years. We will end up with an additional 4 conference rooms, an actual Hall of Fame for our most honored people, a state of the art training room adjacent to our training bakery and a lot of furniture made of wheat. Yep, you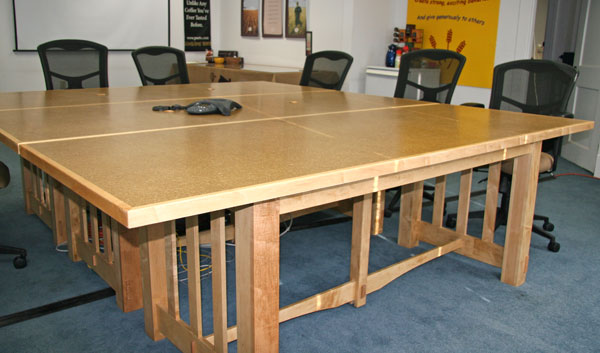 read that last sentence correctly. We had a conference room table custom made for us from wheat. It looks like normal particle board but in fact it really is wheat. What a cool setting for meetings for a whole grain focused company -- meet around the wheat table for some great discussion.
Thanks for reading.