October always brings to mind colorful fall leaves, festive orange pumpkins, corn mazes, hay rides, and hot apple cider. Chances are if you've been a long time customer of Great Harvest, you've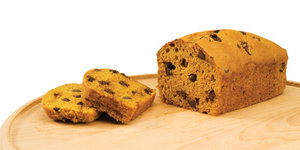 tasted the Pumpkin Chocolate Chip batter bread. In some areas of the country, customers have threatened a revolt if the bakery takes it off their menu. No seriously, it is that good!
While on my quest for pumpkin this month, I thought I'd try my hand at pumpkin pancakes. Dab on a little bit of cinnamon butter and drizzle some authentic maple syrup. If you like candied pecans or walnuts, add some of those as well. Many of our bakeries make a pancake mix from scratch made from fresh ground whole wheat flour, rolled oats, and brown sugar just to name a few ingredients.
Give this pumpkin pancake recipe a try and let me know what you think!
What You'll Need
1 ½ cups of dry Great Harvest whole wheat pancake mix
2 eggs
1 Tablespoon canola or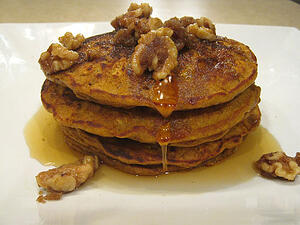 vegetable oil
¾ cup canned pumpkin
2 teaspoons cinnamon
1 teaspoon ginger
¼ teaspoon nutmeg
¾ cup water
Pan spray (I prefer canola pan spray)
In a large mixing bowl, mix all these ingredients together. I used a ½ cup measure to scoop my batter. Cook pancakes on medium-low heat for several minutes per side.
This recipe yields approximately 5 – 5" pancakes.
What are your favorite Great Harvest pumpkin products?