In the past three years, the Lincoln, Nebraska, Great Harvest has raised $15,000 for the Nebraska Chapter of the National Multiple Sclerosis Society. For bakery owner Kevin Horne, the annual "Raising Dough" events for the society take on a very personal meaning. He was diagnosed with the disease 5 years ago.
"Like so many others, my family and I are affected every day by MS and we wanted to do something to help," notes Kevin. "The "Raising Dough" fundraiser is done by many Great Harvest bakeries across the country and is a natural fit for the 'give generously to others' portion of our mission statement."
For each event, 100% of a day's sales were donated to the society, not just a portion of the profits. Lisa Brink, the President of the Nebraska chapter of the National MS Societ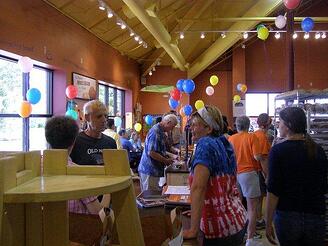 y said, "Donating 100% of proceeds is unheard of. This is a great example of non-profits and for-profits collaborating to further our mission. The Society serves more than 28,000 clients and their families in Nebraska, and this fundraiser is a great model for showing support in the community."
Bakery employees and community members volunteered their time for the event. Some ingredients and supplies were generously donated by Lincoln Poultry, Bakemark and US Foodservice.
Multiple sclerosis is a chronic, often disabling disease that attacks the central nervous system, which is made up of the brain, spinal cord, and optic nerves. Symptoms may be mild, such as numbness in the limbs, or severe, such as paralysis or loss of vision. The progress, severity, and specific symptoms of MS are unpredictable and vary from one person to another. Today, new treatments and advances in research are giving new hope to people affected by the disease.
To find a local chapter of the MS society in your area, check out the National Multiple Sclerosis Society website.
Have you participated in a "Raising Dough" event at your local Great Harvest? What organization did your bakery choose to support?