Like most Great Harvests, Bloomington, IL, owners Rick and Anita Ashley donate their unsold bread to food banks or shelters. To take it a step further, they've also found a simple way for customers to contribute as well.
Anita explained, "When a customer buys 12 loaves, the thirteenth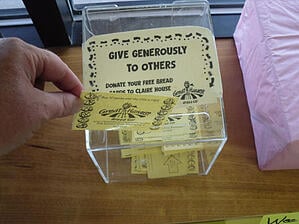 is free. It's a nice bonus for customers and something many look forward to earning. One of our favorite customers, Char, brought up the idea that she didn't really need the free loaf, but was sure there were people who did. That's how we began a program for customers to donate their free loaves to Claire House."
Claire House provides dry goods and canned groceries to those in need, but they are not set up to distribute fresh products like bread. The free loaf cards donated by customers are distributed along with the groceries handed out by volunteers so recipients can pick up a fresh loaf at the bakery.
"Part of our mission statement is 'Give Generously to Others' and it is one of the reasons we chose to do this business. We think it is wonderful that so many of our customers want to contribute this way."
Have you participated in a charitable opportunity with your local Great Harvest?