Looking at my list of national healthy holidays I was very surprised to see that June has been named National Turkey Lovers Month. Like many of you I wondered why November isn't declared the month of turkey appreciation. According to the instigators of the holiday, the Virginia Department of Agriculture and Consumer Services, it's the ideal time to celebrate the delicious taste, versatility, high quality nutrition and cooking ease. June's celebration emphasizes turkey's year round popularity.
Turkey really is an often overlooked lean protein option. A 3-ounce serving of roasted, skinless turkey breast contains 26 grams of protein, 45 milligrams of sodium, 1 gram of fat and only 120 calories. A very healthy choice. In fact, now you can get some of your favorite products in a lower-fat, but just as tasty, version. For example, turkey sausage, turkey bacon and ground turkey are a great way to have all the flavor of a high fat meat but in significantly less calories.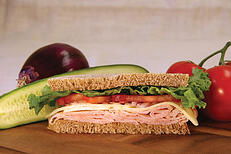 Another great way to enjoy turkey is on two slices of mouth-watering Great Harvest bread. Fresh deli-sliced smoked turkey with lettuce and tomato maybe a few peppers and a savory spread on whole wheat bread give you a delicious lunch, packed with great nutrition.
What is your favorite turkey recipe? Or your favorite sandwich?