Happy spring! However, spring here in Montana usually looks like winter especially when you wake up to 6 inches of snow in the middle of April! Whatever the season, there's one bread that is always good no matter what... Great Harvest Cinnamon Chip! Some bakeries may call this Cinnamon Burst, but whatever the name, you are bound to love it. The all-time favorite way to eat Cinnamon Chip is to use it for French Toast. (Sure it is good to pop into the toaster and slather it with butter too.)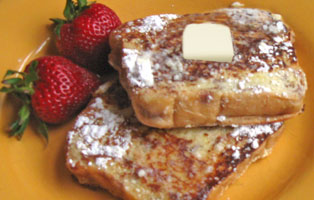 This is one of my favorite recipes. Go ahead and give it a try!
Ingredients:
1 loaf of Great Harvest Cinnamon Chip bread (pre-sliced approx. 15 slices or hand slice approx. 10)
3 large eggs
1 c. half and half
2 Tbsp. honey (you can warm this up to make it easier to incorporate)
1 tsp. vanilla
4 Tbsp. butter (for skillet)

Whisk together eggs, half and half, honey, and vanilla in a bowl. Heat skillet over medium heat. Add butter 1 Tbsp. at a time as needed. Quickly dunk slices of bread in batter until they are just coated. Cook on both sides until golden brown. Serve with maple syrup, powdered sugar, or butter and peach jam. Yum!
We'd love to hear how you like to eat your Cinnamon Chip bread...please do tell!