We recently received some pretty cool recognition. Great Harvest Franchising was named to Outside Magazine's 2010 "Best Places to Work." First, I totally love Outside Magazine. Second, I think Great Harvest attracts employees, bakery owners and customers who fit the spirit of the publication - people who care about work/life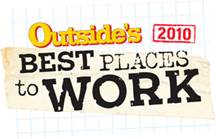 balance, fitness, nutrition, and living life to the fullest. We are pretty blessed that the Great Harvest franchise office is located in a small southwestern Montana town near world-class fly fishing, hiking, biking, skiing and more. Yellowstone National Park is practically in our back yard. Living life to the fullest in Dillon, Montana is really not hard to do.
Ultimately, "Best Places to Work" selection was based on employee-satisfaction surveys addressing benefits, compensation, policies, job satisfaction, environmental initiatives, and community outreach programs. These results were analyzed by Best Companies Group experts, who selected the top 50 companies that also enhanced their employees' enjoyment of active endeavors, and environmental and social involvement.
The second bit of recognition we received was being named to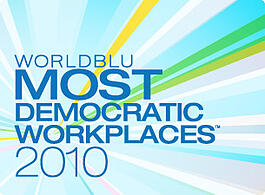 Worldblu's "Most Democratic Workplace" list. This is an international honor, and it's the fourth time Great Harvest has received it. WorldBlu specializes in organizational democracy and freedom-centered leadership. WorldBlu looks at how unique democratic practices contribute to profitability, high performance and engagement.
When we look at the names of the great businesses on these lists, we are so honored to be included!
Working with Great Harvest for the past three years has been an eye opener for me. Everyone has a voice, and the collection of voices brings forth great ideas. It's not that everyone gets their way. That is called anarchy. Someone still has to be in charge and make final decisions, but only after everyone has the opportunity to provide input. As it's said, "knowledge is power," and the more knowledge we share at Great Harvest, the better the end result...even if it ends up being very different than what you originally envisioned.
The longevity and success of Great Harvest speaks volumes about the value of democratic principles in the workplace. That's because democratic practices are central to empowering people, and people who are empowered are also engaged in their own destiny and run amazing and profitable bakeries.
So I'd like to know your best employment experiences. Maybe you had a boss who brought out the best in you? Perhaps there was a beloved policy that made your life better? Or did you help create a product or service you were proud to stand behind? Please share!