I found the Levite Chronicles blog from a Chris Brogan post and have been a fan ever since. I like Jon's idea of a social media chaplain, but more than that, I am always impressed when a person or business creates a new niche and fills it. Kind of like the "whole wheat bread made with fresh ground flour daily" niche. ;-)
Jon Swanson did a series of interviews called Five Questions. Since imitation is the sincerest form of flattery, I'm going to copy his idea. I interviewed my friend (and first supervisor!), Hans Wendt, about his experience with Great Harvest for the past 20 years. He and his wife, Rene, own the Great Harvest Bread Co. in Bellingham, WA.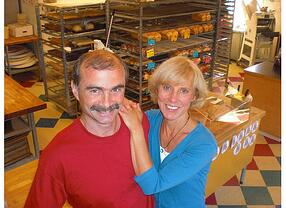 What makes a great franchise business?
Hans: You know me well enough that you can predict this answer - freedom! The Freedom Franchise is the most important feature of the Great Harvest franchise system for me. Secondly, the ownership and staff at headquarters are fair and just people. Even if I disagree with the direction they're going on a topic, I still believe they are being fair about it. Third, I like the bread and I can feel good about selling it. It tastes great and is good for you so it's easy to be passionate about it. I don't have to sell my soul to make a living.
What are some of the disadvantages of owning a small business, especially a Great Harvest Bread Co.?
Hans: There could be easier ways to make a living. It's a lot of work and a lot of responsibility. Now that I'm a business owner, I have empathy for all my former employers. I know that the owner of any business has a large burden to bear. Sure, I enjoy the "other benefits" of business ownership, but it was an adjustment for me to learn to deal with the risks. I spent some sleepless nights worrying about a customer falling in my lobby on a wet floor. I had to teach myself to shed the worry about risk (and I increased my liability insurance.)
What are those "other benefits"?
Hans: I get to work every day with people I like because I hired them. I am never presented with moral or ethical dilemmas from management above me. Though hard work and long hours, I pick my hours so I could go to all my kids' games and performances. It can be hard to leave town, but I love the flexibility in my schedule.
What is it like to live in a border town for the 2010 Winter Olympics?
Hans: The hotels are all booked. I've heard that Canadians are coming down here just to get away from the chaos. The city has been working on development projects for a couple of years -- replacing sidewalks and streets to look good for Olympics. We're targeting the extra people in town with Red, White and Blueberry Swirl bread on our menu.
How painful was it to answer my questions?
Hans: Much easier than the interview I did last week with a local radio station about our first annual "Toast Festival!"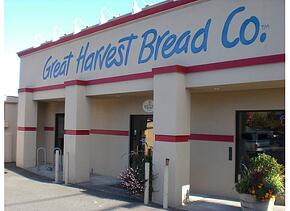 Have any of you been in the Bellingham, WA Great Harvest or another locally owned Great Harvest? What's you favorite bread there?