A couple of days ago in the R&D/training lab here in Dillon, Great Harvest CEO Mike Ferretti and I stood around the giant kneading table and tasted many different versions of five new possible additions to our whole grain sandwich program. I know, rough job – but somebody has to do it!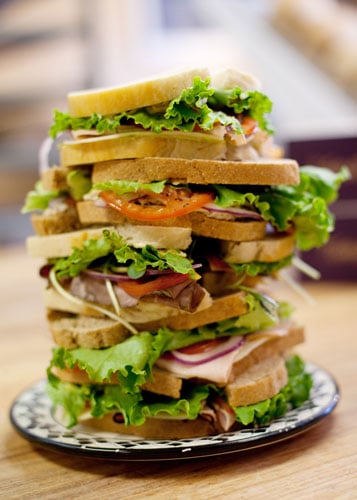 In my old life as a chef if I came up with a new dish that I liked I just put it on the menu. However, when you are talking about 200+ locations and 15 or so new bakeries every year, anything we release has to work as well for customers of a brand new bakery in Topeka, Kansas, and longstanding customers of an established bakery in Chicago as well as it does for me here in the test kitchen.
We ask all sorts of questions as we taste: less salt, more salt, more acidity, less acidity, more garlic, too much garlic, dried spices vs. fresh, what kind of bread would be best with this, does it need cheese, how much meat is ideal to not overpower the other ingredients…??? Then we have to have some other folks make it, make sure it is economically feasible and labor-friendly, and do consumer test runs in several different bakeries in different regions. It really is quite the process.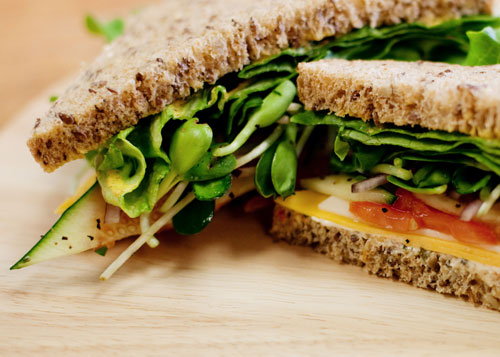 At Great Harvest we get pretty excited about sandwiches for a lot of reasons. They are the perfect vehicle for our bread and serve the need for a healthy lunch for many customers. Sandwiches are one of the biggest growth opportunities available to current and future Great Harvest franchisees. It has developed into a huge part of our business and has changed the way we hunt for locations, design our bakeries, and has helped increase revenue in the 12 years since the program was rolled out nationally.
A whole grain sandwich product line is one more tool in our arsenal to help existing Great Harvest franchisees be as successful as they can be. We have some bakery locations that don't do sandwiches at all and we have some bakeries where sandwiches are the bulk of the business. Of course, all new stores start with sandwiches on opening day. We consider it an incredibly valuable part of our franchise system and it is something that I am spending a lot of time on right now.
We are currently in the process of reformulating our whole grain sandwich program to include more contemporary flavors and keep pace with changing customer dynamics and expectations. We are getting some amazing results and can't wait to have them be available to the system.
We'd love your help – what are some of your favorite sandwich combinations and flavors? Please share in the comments section below.