There's a new way to gift the great taste of Great Harvest — and it's here for a limited time only! We are on the tail end of a Mother's Day promotion that ends this Sunday, May 14th. After that, it will be gone.
Give Mom the Gift of Great Taste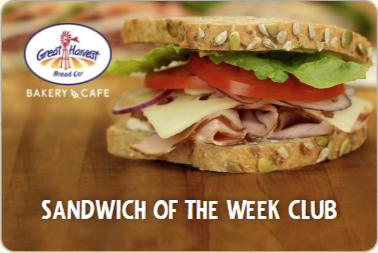 You may have seen the promotion on our website, or in your local Great Harvest store. The gift is a subscription to the Great Harvest "Sandwich-of-the-Week" club, giving your recipient six separate opportunities to appreciate their gift from you through the end of July.
Here's how it works:
Pay $43 for the club membership. You can print out the membership to hand-deliver your gift, or you can send it by email or text. You choose whether it is sent immediately or pre-scheduled for delivery on Mother's Day.
The recipient doesn't have to be your mother. It could be any special friend, or aunt, or grandmother. But whoever the recipient is, be sure that they live near a participating Great Harvest location (check here).
Despite the name, the subscription is not limited to sandwiches! It can also be used for any equivalent item, including bread, salads, or grain bowls (where available). Your recipient will get their choice of these items, six times!
The gifts are delivered digitally to the recipient's email or mobile phone, every two weeks. They will get a unique code for each of the six gifts. To redeem their gift, they simply show the code to the cashier at their local Great Harvest, either on their phone or via a printout. The codes will be delivered on the following dates: 5/14, 5/28, 6/11, 6/25, 7/9, 7/23. Each of the six gift codes will expire after three weeks, and until they have used a code, they will be sent a series of automated reminders.
The perfect gift for Great Harvest lovers!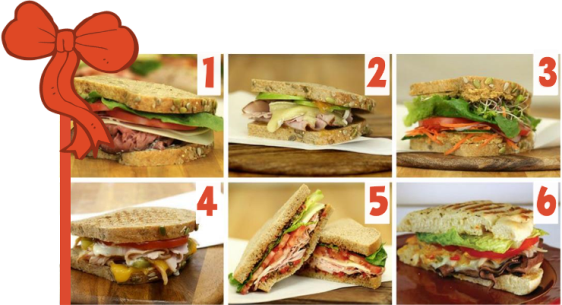 Have more questions? See the sandwich-of-the-month FAQ page here.
What are you waiting for? Buy your gift subscriptions while you still can!
Want additional gift options?
Explore traditional and digital gift cards as well as fresh baked goods and gift packages by mail here.